The King's Man: La primera misión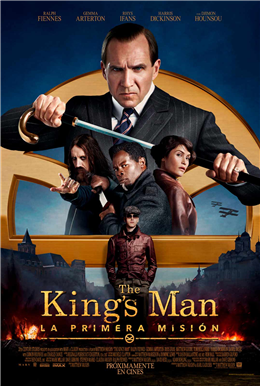 DIRIGIDA POR: Matthew Vaughn
GÉNERO: THRILLER
DURACIÓN: 131
PÚBLICO: M-16
Un grupo formado por los peores tiranos y las mentes criminales más malvadas de la historia se reúne para desencadenar una guerra que aniquilará a millones de seres humanos. Pero un hombre se levantará y librará una batalla a contrarreloj para detenerlos. En The King's Man: La Primera Misión descubrimos los orígenes de la primera agencia de inteligencia independiente. The King's Man: La Primera Misión está dirigida por Matthew Vaughn y protagonizada por Ralph Fiennes, Gemma Arterton, Rhys Ifans, Matthew Goode, Tom Hollander, Harris Dickinson, Daniel Brühl, con Djimon Hounsou y Charles Dance.
ACTORES: Ralph Fiennes, Harris Dickinson
Clicka en la hora de la sesión que prefieras para comprar tus entradas.
MÁS PELÍCULAS